Becoming a Member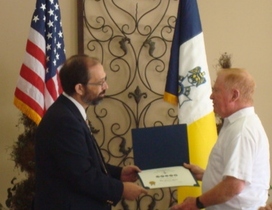 Any male who is a lineal descendant of an ancestor who supported the war for American Independence is eligible for membership in the Sons of the American Revolution. These ancestors are referred to as Revolutionary War Patriots and include those persons who fought in the military and/or the militia, who provided supplies to the American cause, who served on political bodies supporting the Revolution, or who signed oaths of support and similar acts.
In addition to military service performed by the Continental Army, Navy, and militia, we recognize Patriotic Service provided by signers of declarations and petitions, medical care providers who gave aid to the wounded, ministers known to be in sympathy to the Colonies, either by sermon, speech or action, defenders of the forts and frontiers, and those who furnished a substitute or supplies to the military. Similarly, and most importantly to those in Louisiana, we recognize service under Spanish Governor of Louisiana, General Don Bernardo de Galvez, whose military battles against the British between December 24, 1776 and November 26, 1783 drove the enemy from the Mississippi River, the Gulf Coast and Pensacola, Florida.
Becoming a member has never been easier. Much of the research needed to document your ancestry back to the American Revolution has already been done. Online sites such as Ancestry.com cannot be used as proof of lineage, but may give you clues as to where to look for the proofs needed. The "Getting Started" and "The Process" sections under the Membership tab at
www.sar.org
will guide you on how to proceed.
Every chapter has a registrar who is trained in the preparation of the SAR Application and can guide and assist prospective members in documenting their connection to a Patriot Ancestor. If none of our ten chapters are in your area, we invite you to join "At Large", meaning you would have no chapter affiliation. Our state registrar, Clifford Normand, can assist any prospective member in this category or give expert advice on documenting your lineage. He can be reached at
clifford.normand@att.net
---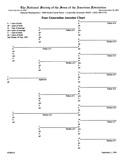 Not sure if you have a Patriot Ancestor or which line would be best to use? Click
HERE
to find a 4 Generation Chart. Complete it to the best of your ability. With the information provided, a SAR member or Genealogist Helper can assist you in finding if you qualify for membership. If you have trouble finding assistance, contact
LASSAR1776@aol.com
. Someone is always ready to help you join the Louisiana Society, Sons of the American Revolution.
If you know who your Patriot Ancestor is and would like to get a jump start with the application process, you can print and complete a Worksheet Application. Just click
HERE
to download and print the SAR Application Worksheet.
---
A Tribute To Charles Robert Churchill
Charles Robert Churchill is responsible for more Louisianans becoming members of the SAR than any other person. He accomplished this by compiling the Spanish records of soldiers who served under General Don Bernardo Galvez. His research began in 1917 and his book, SAR Spanish Records, Spanish-English War, 1779-1783 (Men under Gen. Don Bernardo de Galvez and other records from the Archives of the Indies, Seville, Spain) was completed in 1925. Only five books were made. They were typed on a typewriter with one original and four carbon copies. They were distribute as follows: the first copy was given to Mr. William Beer for the Howard Library, the second to the library of the DAR in Washington, the third to the library of the SAR, the fourth retained by Churchill himself and the fifth to the library at Tulane University.

C. Robert Churchill was born in New Orleans on 24 February 1868, the son of Charles Holliday Churchill and Martha Thorn. He was educated in private schools in New Orleans and graduated from Tulane University in 1889 with a Bachelor of Science degree in Electrical Engineering. Initially, his professional career was as a sugar engineer but later he became engaged in electrical engineering and contracting. He wrote several books in both career endeavors. He was a volunteer in the Spanish-American War and retired from the Louisiana National Guard with the rank of Lieutenant Colonel.

His SAR activities began on 18 March 1908 when he became the one hundred second member of the Louisiana Society. Tracing his ancestry back through his father's and mother's family lineages, he claims as his Revolutionary ancestors Captain Charles Churchill, Private Charles Churchill, Jr., Samuel Thorn, Thomas Hart, Jr. and Abraham Grote. In 1918, he became the sixteenth president of the Louisiana Society, SAR and served for ten years.

He was active in many civic, historical and social organizations. He joined the Pickwick Club in 1914 and became its thirty-seventh president in 1928, following in the footsteps of his father was its first president. He was a member of the Society of Colonial Wars and the Order of Founders and Patriots. In Masonry, he was a York Rite and a Scottish Rite Mason and a Shriner. Delta Tau Delta Fraternity claims him as one of the founding members of the Tulane University Chapter and honored him in 1930 with the Purple Citation for Continuous and Meritorious Work in and for the Fraternity. The Institute of American Genealogy awarded him the Certificate of Merit in Genealogy in 1939 for "Original Research and Meritorious Contribution."

C. Robert Churchill died in New Orleans on April 28, 1946, unmarried. He was interred in the Girod Street Cemetery and was reinterred in 1957 in Hope Mausoleum.

Dalton Leo Woolverton, Past President (1989) Louisiana Society, SAR
A History of The Louisiana Society Sons of the American Revolution, The First 100 Years.

Below are links to a pdf copy Churchill's book SAR Spanish Records, Spanish-English War, 1779-1783. It is broken into six parts due to size
Part 1
Introduction
General Index to Names
Map of the US
Index to Names
Supplementary Index to Names
Part 2
Book of Life and Services of Infantry Regiment of Louisiana (pgs 1 – 55)
Part 3
Book of Life and Services of Infantry Regiment of Louisiana (pgs 56 - 161)
Part 4
Index to Package No. 112 (pgs 162 – 217)
Royal Legion Mixed Militia of the Mississippi Service Records (pgs 218 – 259)
Part 5
Royal Legion Mixed Militia of the Mississippi Service Records (pgs 260 - 331)
Paper by Miss Wright on the Archives of the Indies (pg 1)
Selections from Letters of Raymund DeBreuil 1778-1779 (pgs 2- 15)
Continuation of (A) Book of Life and Services of Infantry Regiment of Louisiana (pgs 347 – 350)
Morning Chronicle & London Advertiser (pgs 351 – 358)
Part 6
Morning Chronicle & London Advertiser (pg 359)
Services to the Revolution of Bernardo de Galvez (pgs 360 – 378)
Record of Recruits from Spain with names of Vessels (pgs 379 – 388)
Militia of St. Louis (pgs 389 – 396)
Recruits for Louisiana Permanent Regiment (pgs 397 – 398)
List of Names of Men who served under the Command of Bernardo de Galvez (pgs 399 – 401)
Capture of Mobile and Pensacola (pgs 402 – 404)
Indians Capture of St. Augustine 1752 (pgs 405 – 408)
Gifts of Florida Indians 1782 (pgs 409 – 412)
Tables relating to the Army of Galvez July 15, 1781 with Names of Ships (pgs 413 – 417)
Letters of Galvez respecting Attack on Pensacola (pgs 418 – 421)
Letters of Galvez respecting storm in New Orleans August 19, 1779 (pgs 422 – 432)
Attack on Manchac (pgs 433-447)