Bronze ROTC Medal Awarded at Lakeview (April 17, 2015)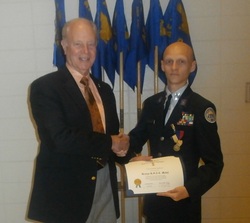 Truman Maynard traveled to Campti, Louisiana to award the Bronze ROTC medal to Cadet Second Lieutenant Quayd Scallion at the annual ROTC Awards Banquet at Lakeview High School.

Scallion was selected by MAJ Bob Kellogg, Senior Aerospace Science Instructor at Lakeview for his leadership qualities, military bearing and general excellence.
---
Chapter Hears Winning Essay Before Installing New Members (February 28, 2015)
LTC(R) Terasa Speaks On American Freedom (November 15, 2014)
Members and guest of the Natchitoches Chapter were treated honored to have LTC(R) Fred Terasa as their guest speaker at the November meeting. Terasa spoke on America's unique freedom, ending his presentation with a commendation to the SAR, DAR, and other organizations that keep the flame of liberty alive by passing on our history in the community.

Billy St. Andre spoke for the nominating committee, reporting that it was the desire of the members to keep the same outstanding leadership we currently enjoy.
New Member Inducted (October 18, 2014)
Charles Lee was inducted into the Natchitoches Chapter at the October meeting. Lee is the 5th great grandson of Jean Pommier who served as a rifleman with the Natchitoches militia during the American Revolution.

The speaker for this meeting was Truman Maynard, who gave an outstanding account of local Indian Agent Dr. John Sibley's 1807 report to President Thomas Jefferson.

Also also at the meeting, President Sandy McNeely and LASSAR Trustee Tony L. Vets attached the President Generals Memorial Marker Streamer to the chapter flag. This streamer was awarded for the grave marking activities undertaken by the Natchitoches Chapter during the 2013-2014 PG's term. The silver star on the left (top) of the streamer denotes a second award as the chapter marked two graves during the noted time period.
Dr Pelligrin Tells Of Smallpox During The War (August 16, 2014)
The guest speaker for the August meeting was Dr. Charles Pellegrin, Associate Professor of History at Northwestern State University. Dr. Pellegrin told the group of the great threat smallpox posed to the success of the American Revolution. He recounted the casualty figures and the significant decrease in combat effectiveness due to disease. Dr. Pellegrin explained how the populace was reluctant to receive inoculations and how General Washington preserved his forces by ordering inoculations. Dr. Pelligrin then carried the concept forward through the Civil War and subsequent conflicts, noting that it was not until WW II that the military, and the nation, took real steps to protect the forces from disease. After the presentation, Dr. Pellegrin was presented the SAR Certificate of Appreciation by Chapter President Sandy McNeely.

Afterwards, President McNeely inducted Rick Nowlin into the chapter. Nowlin is the 5th great grandson of Philip Frederic, who served as a rifleman with the Natchitoches militia during the American Revolution.
Chapter Hears About Another War (June 21, 2014)
Chapter Member Places Flags For Memorial Day Activities (May 24, 2014)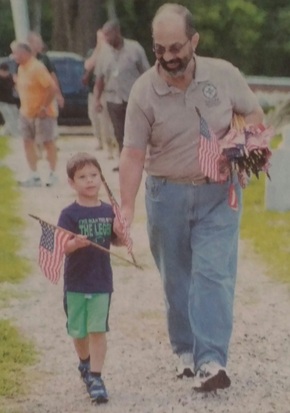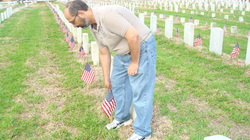 Natchitoches Chapter member Tony L. Vets participated in Flags In activities at Alexandria National Cemetery in Pineville. This annual event is held on the Saturday prior to Memorial Day.

Tony was in Pineville with this son, Tony L. "Bo" Vets II and grandson Jackson, both members of the Enemund Meuillion Chapter in Alexandria.

This is the fifth year Tony has participated in this event. He represented the LASSAR by placing a wreath at the cemetery as part of the official Memorial Day program on Monday.
---
New Member Inducted at Conclusion of Grave Marking (April 26, 2014)
Robert Lombardino of Many was inducted into the Natchitoches Chapter immediately following the grave marking of Patriot Remy Lambre. Robert was sworn in by LASSAR State President Bob Hess and roundly welcomed by the chapter. Robert is also a member of the Fort Jesup Society of the CAR and was on hand to lay the CAR wreath during the grave markings.

Robert is a descendant of Martin Anthony who rendered material aide to the cause during the American Revolution.


---
Chapter Hears Winning Essay - Veterans Honored (February 15, 2014)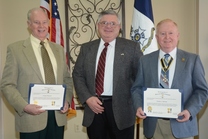 Ty Barbour, winner of the Natchitoches Chapter 2013 Knight Essay Contest, was on hand to read his essay. Ty described the Battle of Yorktown, including the planning, General Washington's deception plan, and the fact that the success of the campaign was dependent upon the French fleet's successfully blockading the Chesapeake Bay and preventing the British Army's escape by sea.

Alan McMurtry presented certificates to Sandy McNeely and to Truman Maynard, citing their membership in the SAR's Vietnam War Veterans Corps.


---
Chapter Sponsors Knight Essay Contest - Winner Chosen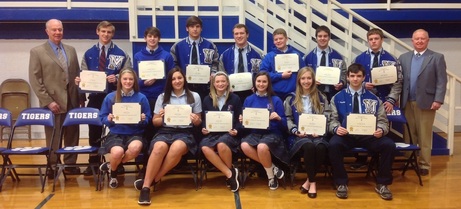 Students at St. Mary's Academy in Natchitoches participated in the Natchitoches Chapter's 2013 George & Stella Knight Essay Contest, one of several contest sponsored yearly by the National Society Sons of the American Revolution. All of the students that participated received a Certificate of Appreciation from the chapter.

Seated from left: Madi Ackel, Shelby Bishop, Kaleigh Webb, Mary Katheine Horton, Emily Heart, Garrison Freidel. Standing from Left: Tuman Maynard Ty Barbour (winner), Jonathan Frederick, Tyler McCain, Ty Ward, Joe Rogers, Matthew Chambliss, Hunter Bedgood and Chapter President Sandy McNeely.



---
Senior Ty Barbour won the Natchitoches Chapters' contest and took home a cash award of $50. Ty's essay was then submitted to compete for the state level competition where the prize is $500 and an Olympic sized medal.
---
New Member Inducted (November 9, 2013)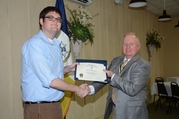 Cyle L. Garrett was inducted into the chapter at the November meeting. Cyle's ancestor, Joseph Punteney, signed the Oath of Association of Freemen of MD in 1776 and the Oath of Fidelity in 1778.

Cyle immediately volunteered to assist the chapter by volunteering for a committee assignment.

President Sandy McNeely read a message from Jackson Sibley, thanking the chapter for the splendid ceremony to mark the grave of his ancestor, Dr, John Sibley. McNeely then displayed a copy of the Natchitoches Times which included an excellent story and photographs provided by Wanda St Andre and extended the special thanks to Wanda for making this publicity possible.

---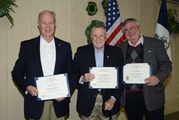 McNeely thanked the members for their fine work in preparing and conducting the ceremony, and presented Certificates of Appreciation to Truman Maynard, Mead Middleton, and Alan McMurtry for the hard work and dedication spent to making this event a fitting tribute to a Patriot so important to Natchitoches.

President McNeely also presented a certificate to Truman Maynard, citing his membership in the SAR's Korean Service Veterans Corps.

---
Chapter Hears About History of Flag (August 17, 2013)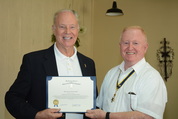 Truman Maynard spoke about the origins of our National Flag, and how the flag became an icon following the defense of Fort McHenry in 1814. President McNeely presented a Certificate of Appreciation to Truman Maynard.

In attendance was Southern District Vice President General, Dr James A. Morock. Dr Morock thanked the Chapter for the excellent support of the Louisiana State Convention, and told of the President General's five initiatives for the coming year. He especially emphasized two of the initiatives, retention of members (goal=95%) and placement of memorials, markers, and monuments. Plans were discussed to mark the grave of Dr. John Sibley, who served as a Surgeon from Massachusetts.

Lyle Alford, President of the Louisiana Society, Children of the American Revolution, spoke to the group about the CAR plan to sell T Shirts and Pins, raising funds to send people to the National Convention.

---
State President Visits Chapter (May 18, 2013)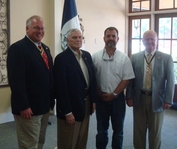 State President Stephen Ray attended the May meeting of the Natchitoches Chapter. Ray congratulated the chapter for hosting a successful annual meeting in April and shared his hopes and vision for LASSAR during his term in office.

Two new members were inducted into the chapter. Mead Middleton, a descendant of Adam Efurd of South Carolina, and Gerald Deville, a descendant of Natchitoches Patriot Jean Pierre Emmanuel Prudhomme.

Pictured l-r: State President Stephen Ray, Mead Middleton, Gerald Deville, and Sandy McNeely.


---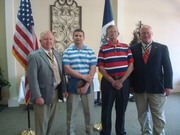 A special privilege for the chapter was to award the War Service Medal to Compatriot Gregory St. Andre. St. Andre has just returned from operations in Afghanistan, proudly serving his state and country in time of war.

Pictured l-r: Sandy McNeely, Gregory St. Andre, Billy St. Andre, and State President Stephen Ray.


---
Area Students Recognized (April 12, 2013)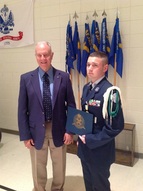 Two Natchitoches Parish high schools held awards banquets for their JROTC. The Natchitoches Chapter was proud to present the SAR Bronze ROTC award to deserving candidates at both Natchitoches Central High School and Lakeview High School in Campti. JROTC cadets who are selected for having a high degree of merit with respect to leadership qualities, military bearing and general excellence.

This year's recipients were Cadet Staff Sergeant Henry Maggio (Natchitoches Central HS) and Cadet Senior Master Sergeant Joseph Dyson (Lakeview HS).

Pictured l-r: Truman Maynard and Joseph Dyson.


---
McNeely Shares Research on Galvez (February 16, 2013)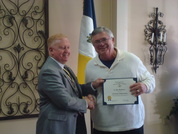 Chapter President Sandy McNeely gave treated the assembled members and guest to information on General Don Bernardo de Galvez, Spanish Governor of Louisiana, whose military battles against the British between December 24, 1776 and November 26, 1783 drove the enemy from the Mississippi River, the Gulf Coast and Pensacola, Florida.

Also at the meeting, Alan McMurtry was presented a Certificate of Appreciation for his service as Organizing Treasurer of the chapter.

Pictured L-R is Sandy McNeely and Alan McMurtry.
---
Truman Maynard Tells of George Washington's Favorite Spy (November 17, 2012)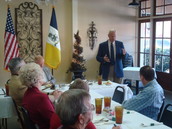 Truman Maynard, Natchitoches Chapter Secretary, performed double duty and was the guest speaker at a joint meeting with the St. Denis Chapter, DAR, telling story of his relative, John Honeyman. Honeyman served as a Private during the French and Indian War and later became the personal bodyguard to Col James Wolfe and carried a letter from Wolfe requesting his service well into his old age. In 1775 he meets George Washington, who asked him to undertake a secret mission. Honeyman was to pose as a Tory. Honeyman moved his family to the Trenton area and using the letter from Wolfe, gained acceptance by the enemy garrison at Trenton. He used his tread of butcher and weaver to trade and watched and listened to every word. After he felt he had sufficient information that would be useful to Washington, he allowed himself to be captured by the Continental forces that had been ordered to be on the lookout for the notorious Tory.

After giving his information to Washington, he miraculously escaped through an unlocked prison door and returned to the Hessian commander, Col Johann Rall, and reported that the Continental Army was in terrible shape and they need not fear an attack. Shortly thereafter, 2,400 troops under Washington crossed the Delaware River and surprised the Hessians who believed the misinformation Honeyman had fed them.
---
Members treated to discussion of the Newberg Conspiracy (August 18, 2012)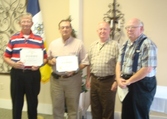 Michael R. Landry, History Teacher at St. Mary's High School in Natchitoches, gave a scholarly presentation on "The Newburgh Conspiracy of 1783" to members and invited guest at the quarterly meeting of the Natchitoches Chapter. This important event near the end of the revolution affirmed civilian control over the military and is one of the many reason Washington was indeed "first in war, first in peace, and first in the hearts of his countrymen".

Two members were recognized for their service to our country. Gene LaCaze was awarded the War Service Medal for his over 20 years of service, which included two tours in Vietnam. Billy St. Andre was awarded the Military Service Medal for his over 20 years of service. The Natchitoches Chapter and the whole SAR honor the service of those who have gave so much to our county.

Pictured left to right: Billy St. Andre, Gene LaCaze, President Sandy McNeely, Michael Landry.

---
SAR Members Participate in Veterans Park Dedication (May 28, 2012)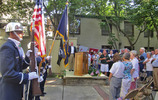 The Natchitoches Parish Veterans and Memorial Park Committee hosted its first Memorial Day service Monday at the site that is to be the memorial park. The service paid tribute to those Natchitoches Parish veterans who have died in the past year. Natchitoches Chapter Secretary Truman Maynard served as Master of Ceremonies, while Chapter President Sandy McNeely represented the chapter.


---
Dr James MacDonald speaks on events leading up to the Revolution (May 19, 2012)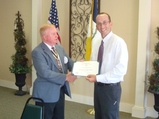 Dr. James MacDonald, Professor of History at Northwestern State University, gave an informative talk on the events that led colonist to revolution. The event was well attended, with many members of the St. Denis Chapter, DAR present to hear his presentation.
---
Also at the meeting, in keeping with the SAR mission of recognizing the service of those have given so much to our freedom, Chapter Secretary Truman Maynard II was awarded the War Service Medal.


---
Chapter recognizes outstanding Demon Battalion cadet (April 26, 2012)
Natchitoches Chapter President Sandy McNeely presented the Silver ROTC Award to Keyana James during Northwestern State University's Department of Military Science awards ceremony April 26. This award is presented to a meritorious cadet who has displayed good standing militarily and scholastically at the time of selection and presentation. The cadet must also be enrolled in the first year of the program and show a high degree of merit with respect to leadership qualities, soldierly bearing and excellence.
JROTC Awards presented (April 20, 2012)
Natchitoches Chapter Secretary Truman Maynard traveled to Campti to present the JROTC Award to Lakeview High School Cadet Trey Stanley while Natchitoches Chapter Treasurer Alan McMurtry presented the JROTC Award at the Natchitoches Event Center to Natchitoches Central High School Cadet Jonathon Kosloski. JROTC cadets who are selected for having a high degree of merit with respect to leadership qualities, military bearing and general excellence.
Natchitoches Chapter installs new officers (February 18, 2012)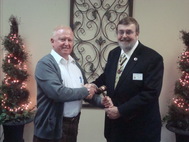 Sandy McNeely was sworn in as President of the Natchitoches Chapter at the quarterly meeting held on February 18, 2012. Other officers installed were Don Rigler, Vice President; Truman Maynard, Secretary; Alan McMurtry, Treasurer; and Tony L. Vets, Registrar.

At the same meeting, John Wynn, a paramedic with Natchitoches Regional Medical Center was presented the SAR Emergency Medical Services Award.
---
History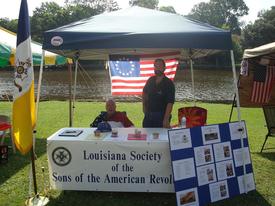 At the LASSAR Annual meeting held at New Orleans in April 2009, the LASSAR 2020 – Long Range Strategic Plan was unveiled. One focus for the state was to increase chapters in underserved areas with special emphasis on town with colleges and universities.

Compatriot Tony L. Vets requested permission from State President Bill Allerton to begin the process of organizing a chapter in Natchitoches. Current and former SAR members in the geographic area were contacted and asked if they would transfer or reinstated their membership if a chapter were formed in the area.

Several outreach events, beginning with a meet and greet at the Natchitoches Parish Library in June 2009, followed by manning an information tent at Natchitoches' Celebration on the Cane July 4, 2009. These outreach events led to several new members who were placed "At Large" until the chapters chartering.


---
Finally, on February 12, 2010, Compatriot Vets notified state president Alleton that he had received notification of the final compatriots needed for chartering and the date was set. The original 18 members were:

James M. Allain
Jeffery L. Allain
Paul C. Hargis
David E. King
Gene H. LaCaze
William "Bob" Lang
John W. Luster
James C. McCrory, Jr
Keith A. McCrory
L. Alan McMurtry
Charles "Sandy" McNeely
Lud McNeely, Jr
Alan T. Rigler
Donald T. Rigler
John A. Rigler
Walter M. Rigler
Tony L. Vets
J. Frederick Webb

The organizing meeting of the chapter was held on March 20, 2010 at the First Presbyterian Church Hall in Natchitoches. The By-Laws were approved and three officers were elected, Tony L. Vets was asked to continue as Organizing President, Don Rigler was elected Vice President, and L. Alan McMurtry was elected Treasurer.

It was decided that the Natchitoches Chapter would have an open charter, allowing any new member approved by March 20, 2011 to be known as Charter Members. These new members were:

Jimmy A. Adkins
Mark A. Adkins
Michael L. Adkins
Hunter M. Adkins
Christopher M. Adkins
L. Cole Callihan
William E. Callihan
Andrew C. Cogbill
Jonathan Comeau
Stacy Cole
Steve Horton
Truman Maynard
Walter S. Nolen
M. Joseph Vercher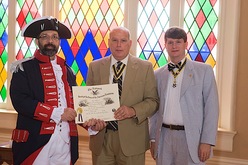 At the LASSAR annual meeting held May 15th 2010, 120 years to the day that Natchitoches native Col William Houston Jack took to the floor of the state senate and organized the Louisiana Society, Natchitoches Chapter Organizing President Tony L. Vets accepted the signed charter from State President Bill Allerton and VPG Tom Jacks.


---